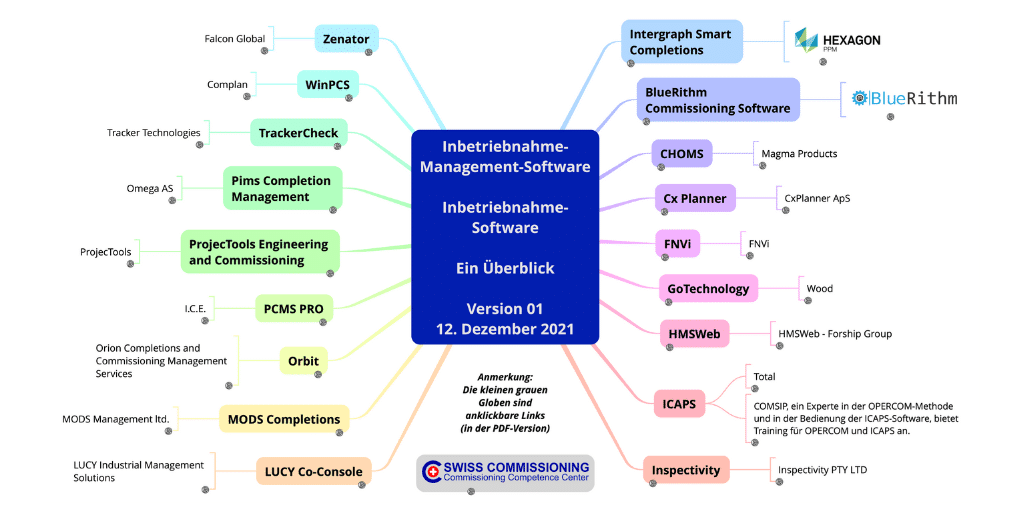 What is commissioning management software?
The terms commissioning management software or commissioning software describe a project management tool that is specially adapted to the needs during the commissioning of process plants.
In addition to commissioning, most tools can also coordinate and monitor the completion of the construction of the industrial plant.
The most commonly used term is Completions Commissioning Management System – in short CCMS .
What are the advantages of using a commissioning management software ?
The advantage of commissioning management software is that all information is available digitally around the clock, allowing the exact status of a project to be assessed at any time. Current information can be accessed by all authorized persons at any time. Possible bottlenecks in the commissioning of a plant can thus be identified in advance by the commissioning manager and countermeasures can be taken in good time.
Another advantage is that standardized software packages lead to conformity of the commissioning process with applicable standards and specifications. The documentation of tests performed during commissioning is greatly simplified by the use of a CCMS (Completions Commissioning Management System).
The processing of pending and remaining items (open items list / punch list) is also simplified by the use of commissioning management software.
Almost all of the CCMSs mentioned below have the ability to document field activities during commissioning through a smartphone or tablet. This can be, for example, the completion of commissioning checklists or the documentation of open points. This often does not require an active data or Internet connection, as the synchronization of the data with the commissioning management software can take place later – for example in the office.
In which industries can commissioning software be used?
Commissioning management software is used across all industries, for example in the oil and gas, petrochemical, chemical, energy and construction industries, but also in pharmaceuticals, biotechnology and in the commissioning of buildings and their building services.
Medium-sized or large commissioning projects in particular benefit from the use of commissioning management software due to the large amount of equipment, activities and data associated with the commissioning process.
With a CCMS, you can plan, execute, and document hundreds, thousands, or even millions of commissioning activities.
You can use the commissioning software for all types of equipment, such as piping, instruments, pumps, valves, tanks, as well as for subsystems and complete systems.
In principle, any commissioning software can be used in any industry. However, there are vendors who have developed their software based on their knowledge of specific industries. Thus, one or the other system has slight advantages or disadvantages in one or the other industrial sector.
For example, HEXAGON's CCMS "Intergraph Smart Completions" has a strong focus on the petrochemical and oil and gas industries. However, the flexibility of the software means that it can also be used in the pharmaceutical and biotechnology industries.
Which commissioning management software is available from which provider?
1) BlueRithm Commissioning Software by BlueRithm
2) Intergraph Smart Completions by HEXAGON
3) CHOMS by Magma Products
4) CxPlanner by CxPlanner ApS
5) FNVi by FNVi
6) GoTechnology by wood
7) HMSWeb by HMSWeb – Forship Group
8) ICAPS by TOTAL
COMSIP, an expert in the OPERCOM method and in the operation of the ICAPS software, offers training for OPERCOM and ICAPS.
9) Inspectivity by Inspectivity PTY LTD.
10) LUCY Co-Console by LUCY Industrial Management Solutions
11) MODS Completions by MODS Management ltd.
12) ORBIT by Orion Completions and Commissioning Management Services
13) PCMS PRO by I.C.E.
14) Pims Completion Management by Omega AS
15) ProjecTools Engineering and Commissioning by ProjecTools
16) TrackerCheck by Tracker Technologies
17) WinPCS by Complan
18) Zenator by Falcon Global
Conclusion on commissioning management software
Commissioning management software or commissioning software is a project management tool that can be used across industries during the commissioning process of a plant.
The commissioning software enables a standardized procedure as well as a standardized documentation of the commissioning of a process plant.
The commissioning manager or other authorised persons have an up-to-date overview of the commissioning status at all times.
Worldwide there are at least 18 different CCMS (Completions Commissioning Management System), which can be used during the commissioning or also during the completion of the construction of a plant.
Do you need help choosing the most suitable commissioning management software for your application?
Then contact us now.